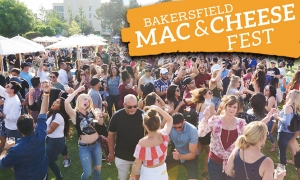 SAVE THE DATE FOR 2022!
THE MAC & CHEESE FEST IS COMING BACK TO BAKERSFIELD FOR THE 7TH ANNUAL FESTIVAL!
Bakersfield is proud to host the 7th Annual Macaroni & Cheese Festival at Stramler Park on Saturday, April 16, 2022. Join us for live music, gourmet Mac & Cheese, Grilled Cheese, Quesadillas, beer, seltzers, wine and more!
Tickets go on sale Wednesday February 23rd.
Listen all week for the Mac & Cheese Cue To Call for your free tickets!!!
And to buy your tickets early HERE